Effective One On One Meetings — The Secret Revealed.
One on One meetings are essential towards building trust and establishing a strong communication channel between manager and employee. Without the proper structure, these meetings can quickly become counterproductive leaving employees feeling frustrated. If ran efficiently, these meetings provide a forum to discuss career growth, accomplishments, and areas of improvement.
An online survey conducted by Interact/Harris Poll of roughly 1,000 U.S. workers identified the top complaints from employees about their managers. The result: 91% mentioned manager communication challenges as a source of contention, specifically around receiving constructive feedback, getting clear direction, and making time to meet.
The graph below highlights the top complaints from the survey.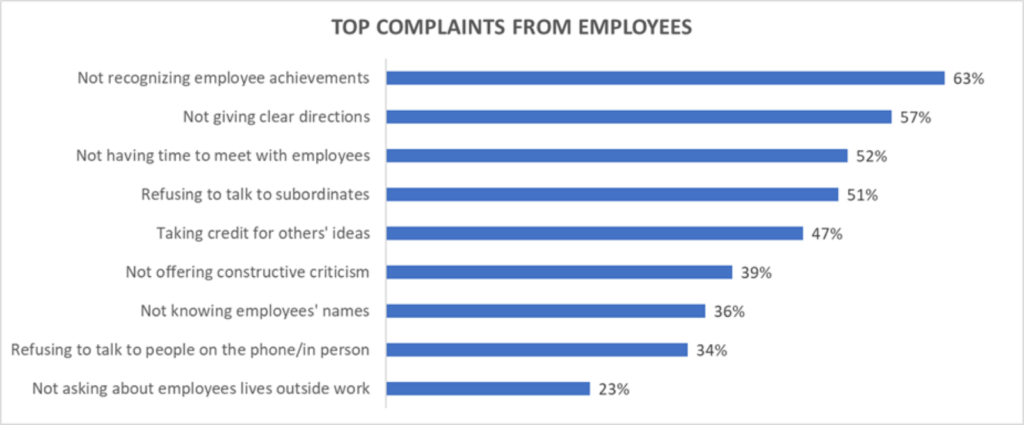 Taking a look at the results above, do any of these resonate with you? If so, continue reading.
---
The Game Plan
The 4 steps covered in this article can be used to provide structure and improve the overall effectiveness of your One on One meetings.
For the employee: you will gain insight on what a constructive One on One meeting looks like. After reading this, if you are not getting the support you need, have an honest conversation with your manager and clearly articulate the type of feedback you require to be productive in your role.
For the manager: you will gain insight on how to structure a One on One meeting by setting clear expectations, defining a realistic career plan, outlining measurable results, and providing constructive feedback. Your goal is to ensure both you and your employee are aligned on what success looks like.
It is important to note that both the employee and manager have a responsibility in setting the tone for the One on One meeting. By following the steps below, you will see a transformation in open communication, accountability, and career growth.
---
4 Steps Towards Effective One on One Meetings
Step #1: Align on Experience Level
As I mentioned in my post 5 Principles Guaranteed to Help Build a Strong Team Culture, I talk about the importance of role clarity and assigning employees to tasks that align with their skill set.
As a manager, your first action is to identify the experience level of each employee and clearly articulate their role and responsibilities within the team.
Use the table below to help drive your conversation.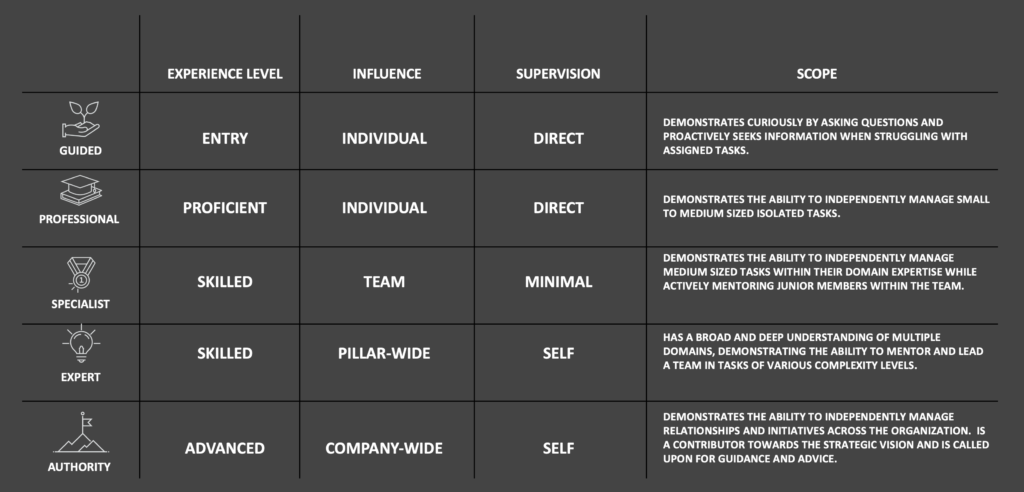 Using this approach will ensure two things:
There is no ambiguity around current role expectations vs. what behaviors need to be consistently demonstrated for next level consideration.
It provides a level of accountability between manager and employee from a support and execution perspective.
Step #2: Define a Career Plan
The next step is to define a career plan. This includes: aligning on your employee's career goals, identifying opportunities required to achieve them, and outlining a clear execution plan to monitor.
To help facilitate this part of the conversation, I use the GROW model developed by Graham Alexander, Alan Fine, and Sr John Whitmore.
GROW is organized into four parts:
Goal: What do you want? Establish what the team member really wants to achieve with their career.
Reality: What's happening now? Establish the team member's understanding of their current role and skills.
Options: What could you do? Generate multiple options for closing the gap from goal to reality.
Will: What will you do? Identify achievable steps to move from reality to goal.
Using this model further strengthens the trust the employee has with their manager, as there is a shared investment in their personal success and career development goals.
Google encourages their managers to use the GROW model for career conversations. They have created a customizable template, with starter questions, that you can use your next One on One meeting.
Step #3: Outline a Clear Way to Measure Progress
Now that you have defined a career plan with a set of goals to achieve, the next step is to determine how best to measure progress. This can be split into two parts:
Accomplishments
This represents "the what". Given the task assigned, what was actually completed.
Was assistance needed to complete the task or was it done independently?
What percentage of the task was completed from 0%-100%?
Was the task completed on-time and with quality?
Competencies
This represents "the how". Given the task assigned, how was it actually completed.
Competencies include four sub-categories:
Judgement:
Are decisions based on data or driven by opinion?
Are issues escalated in a timely matter as to not impact the project?
Are issues unnecessarily raised to leadership instead of trying to address them internally first?
Customer Centered:
Is there a solid understanding of the customer's needs?
Are tasks implemented from the perspective of the customer?
Are support request handled in a timely fashion based on customer impact?
Planning and Improvement:
Is the scope of work fully understood before implementation begins?
Are accurate estimates defined for each task?
Are alternative solutions suggested to help mitigate risk?
Influence and Communication:
Are ideas communicated in an organized and concise matter?
Do they work well within a team setting or are they prone to siloed development?
Are they open to other's ideas or do they tend to dominate the conversation?
Adaptability:
Is there a willingness to work outside their comfort zone?
Do they adjust well to organizational changes?
Do they lead the way through change?
Both accomplishments and competencies should be used to accurately measure progress. Make sure to get up front alignment with your employees on the "what" and "how" for all takes assigned. This will ensure there is a common understanding of what success looks.
Important: Adjust your delivery expectations based on the experience level of the employee. This will be critical in the accurate evaluation when identifying growth opportunities.
Step #4: Provide Relevant Feedback
Not that you have a baseline on how to measure progress, the final step is providing feedback.
Continuous feedback is critical in helping an employee gain insight on growth opportunities or used to reinforce positive behavior. A research study by Office Vibe, generated some interesting stats on the importance of feedback:
65% of employees said they wanted more feedback
69% of employees say they would work harder if they felt their efforts were better recognized
92% of people think constructive feedback is effective at improving performance
83% of Millennials say the feedback they receive from managers is not meaningful
As you can see, employees want feedback. Actually, employees want relevantfeedback. And if you are feeling challenged in this area, don't worry, giving feedback is one of the most difficult skills to master. The solution: preparation and delivery.
There are two models I use to give constructive feedback to my employees.
Situation-behavior-impact Feedback Model
Known as the SBI feedback model for short, this model focuses solely on facts so the individual can understand the effects of their actions. SBI stands for:
Situation: Describe the situation with specifics.
Behavior: Describe the behavior observed; do not try to guess at motives or causes of the behavior.
Impact: Describe the impact the observed behavior had.
The SBI model is great for keeping emotions out of the process. It's important to use "I" statements and withhold judgment when using this feedback model; otherwise, it will undermine the feedback you're giving.
Pendleton's Feedback Process Model
Pendleton's feedback model encourages the person receiving feedback to be an active participant. It allows for self-reflection during the process, rather than after. This model encourages an open dialog between manager and employee.
Here are the steps to follow:
Check that the employee wants and is ready for feedback.
Let the employee give comments/background to the behavior or situation that has been observed.
The employee identifies what went well.
The manager identifies what went well.
The employee states what could be improved.
The manager states what could be improved.
The employee and manager agree on an action plan for improvement.
The process of giving effective feedback can be tricky to navigate, but with practice you will hone your skills in no time.
---
Pulling it all Together
Use the steps above as a guide to structure your next One on One meeting. Remember, effective communication is the key.
Here are some partings tips to keep in mind:
Feedback should be frequent and ongoing. At a minimum setup a monthly meeting with your employees (and stick to it!).
When giving constructive feedback, provide both positive and negative examples to help reinforce expected behaviors.
Feedback should be objective based on "facts" rather than subjective based on "feelings".
When defining goals, be specific, targeted, and actionable. This will ensure clarity and alignment on what needs to be accomplished.
Be collaborative. Leave time for the employee to ask questions and ensure there is alignment on what is being discussed.
Write it down. After the conversation, document the conversation. This will help reinforce the discussion and holds both the manager and employee accountable on any action items.
I guarantee, with a bit of practice, your One on One meetings will be transformed to spark engaging and constructive dialog that generates results.